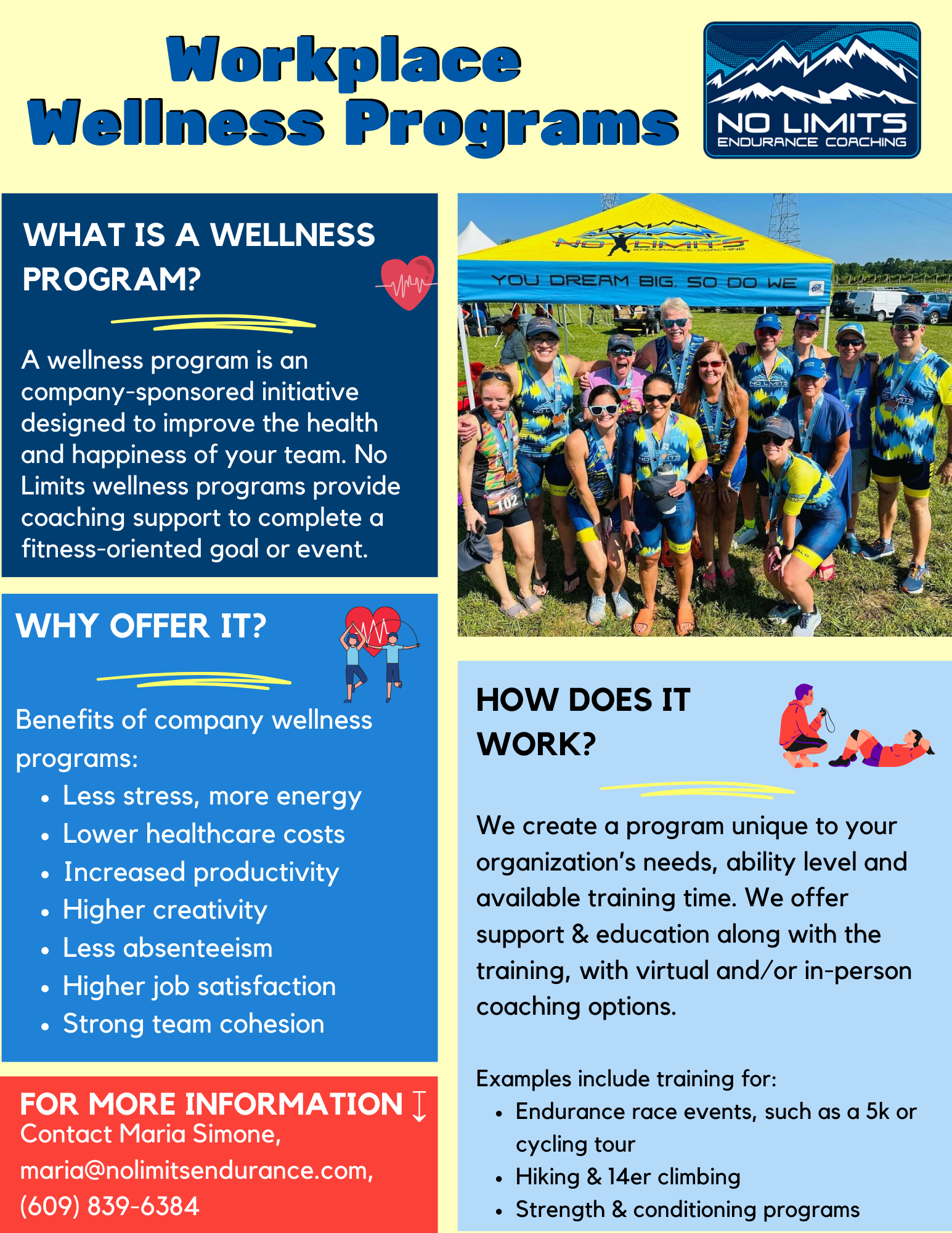 Give the gift of sport and fitness to your company with a No Limits Wellness Program!
Sport and fitness bring people together, support health and wellness, and create memories of accomplishment that will last a lifetime. 
For the workplace, corporate wellness programs can: 
Increase workplace productivity by 15%

Decrease absenteeism, with almost 3 less days missed per year

Decrease the days employees show up to work sick

Enhance creative decision making and problem solving

Improve job satisfaction and happiness
What is a Wellness Program? 
A wellness program is an organization-sponsored initiative that brings a fitness program to the workplace. 
We will create a program that is as unique as your organization's needs, helping your team to prepare for an event of your choosing, such as a 5k, a hiking adventure, or a cycling tour.  We provide virtual or in-person training options (location dependent) to support your team as they work their way to the finish line!
Virtual Options
Our virtual corporate wellness programs provide flexibility for participants to train on their own time and schedule. We deliver the program via a mix of an online training platform, Zoom, and email. 
Here's an example. Let's say your team opts to prepare for a local 5k or 10k run/walk. Here's what might be included with a program like this: 
Group training program with up to 3 levels of ability (beginner, intermediate, advanced). This program may be anywhere from 8 to 12 weeks. 

Bi-weekly newsletter, with specific training tips related to the program, nutrition, and the race. 

Monthly group video call with the coaches, as an opportunity to ask questions and learn more. 

Live group strength training once a week on Zoom, which can be done at home with minimal equipment. 
In-Person Program
With an in-person option, one of our coaches visits your team and leads workouts, presentations or Q&A sessions. Locations are dependent on coach availability. 
As an example, we could take the same program above and add in coach-led group runs or strength workouts that are done live. A coach can also visit the workplace to provide health and wellness presentations related to the program, time management, nutrition and hydration, race day execution and the like. 
Custom Made
Our Wellness Programs are custom made to the unique needs of your organization. To learn how we can deliver a great experience for your team, contact us today to set up a consult.