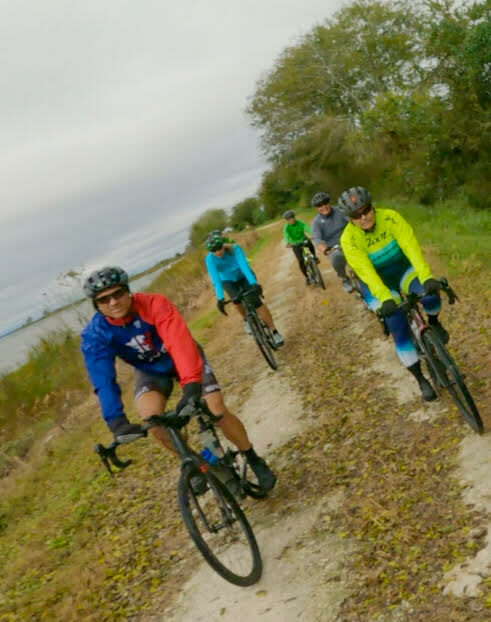 Do you love trying new adventures, such as cycling off road, and running trails? If you do, then a gravel triathlon offers this and so much more. Instead of riding & running on the road you'll get the opportunity to experience the challenge of racing on a variety of terrain and surfaces.
This article will help you understand some of the basics of gravel riding and gravel triathlon. You'll also get access to a free beginner training plan to get you started in the sport (see the link at the end of the article). If you want more information, feel free to contact me (mike@nolimitsendurance.com) for a consult!
FAQ about Gravel Riding and Gravel Triathlon
Is gravel triathlon the same as off road triathlon (e.g., Xterra)?
No. In most Xterra or off-road triathlons, the bike leg is completed on a mountain bike on a single track, technical trails. The gravel triathlon bike leg is less technical completed on unpaved, dirt roads such as Forest Service roads or canal paths. (If you are interested in tips specific to trail running, click for this article on an intro to trail running.)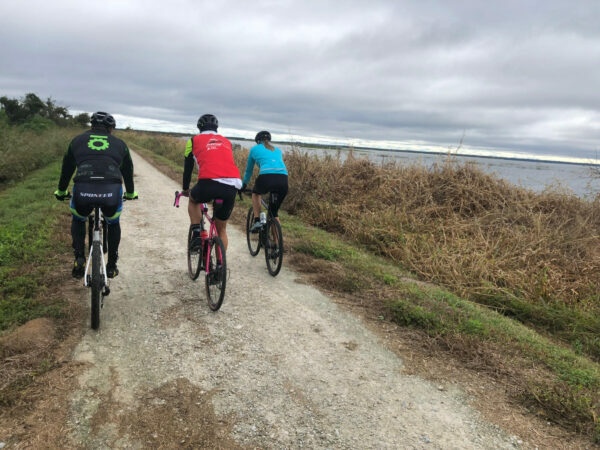 What type of bike will I need for a gravel triathlon?
The bike leg of a gravel triathlon can be completed on a gravel bike, a mountain bike, or a road bike that is modified for gravel riding including wider, gravel specific tires (based on the type of gravel you are riding). Time trial, fixed gear, and recumbent bicycles are prohibited.
Is drafting allowed during the bike leg?
Drafting is allowed. This makes riding on gravel with a group an important addition to your training. You want to be comfortable riding in a group and have the skills to handle the different riding surfaces.
Will gravel triathlon make me a better triathlete?
Riding on gravel will help you improve your bike handling skills, improve upper body strength, and make you a stronger cyclist.
How do I train for a gravel triathlon?
The biggest difference of a gravel triathlon is the surfaces and conditions of the bike and the run leg. Adding off road/ gravel specific bike and run training to your normal triathlon training will help prepare you for the race. It is important to train in similar terrain/ conditions that you will be racing. Riding in loose gravel, sand, and mud requires practice. Learning to corner, brake, ascend and descend in different terrain and conditions will help you ride more confidently with speed.
What equipment will I need that is different from regular triathlon?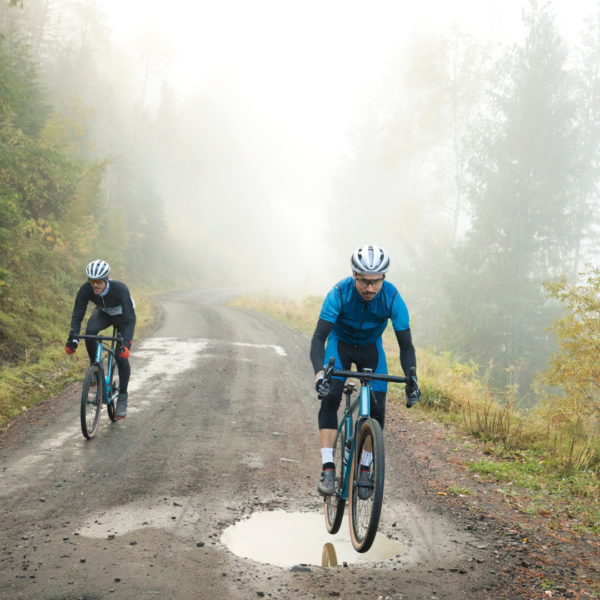 Shoes & Pedals
During a gravel triathlon you may need to dismount your bike to cross an obstacle or to navigate unrideable terrain. A pair of mountain or gravel biking shoes will provide better traction and comfort. Gravel cycling shoes are best suitable for gravel racing. Most gravel cycling shoes are designed for use with SPD-style pedals with two bolt cleats compared to the normal road pedal with 3 bolts.
Hydration Pack Vs. Water Bottle
Depending on the race, terrain, and conditions some gravel cyclists prefer to wear a hydration pack instead of using bottles which can get coated with dirt and mud. It may also be easier to hydrate with a pack than to reach for a bottle in muddy or technical terrain.
Tires
The type of tire will depend on the terrain and the type of road that you are going to be riding and racing. The tires will be wider than tires that are normally on a triathlon or road bike. The looser and rougher the road is then usually the wider and beefier the tire. Tire pressure will also be lower especially if riding tubeless, which is recommended. The tires dictate how well you'll be able to tackle any given terrain and can make or break your race.
Free Beginner Gravel Triathlon Training Plan
If you aren't sure where to start with training, I've created a free Gravel Triathlon Training Plan that you can download. Gravel riding and gravel triathlon is a great way to spice up your multisport adventures. USA Triathlon has announced a gravel series for the 2023 season, which offers plenty of opportunities to try something new and have fun. If you'd like more information about training, or are thinking about hiring the support of a coach, I provide free initial consults. Email me at mike@nolimitsendurance.com to set it up!
An Introduction to Gravel Bike Riding and Gravel Triathlon