~ By Coach Lindsay Leigh
If there was ever a time to create or build out your home gym, thanks to COVID, now is that time! 
If your gym is still closed, or you're not comfortable going to the gym, you can still have a high-quality at-home workout with some key equipment. 
In this article, I review the home gym "must haves" and "nice to haves", so if you are starting from scratch, begin with the "Must Have" list. If you are looking to expand, then move on to the "Nice to Have List".
You don't need a ton of time or money, and in most cases, the best home gym equipment is small and inexpensive. 
---
Home Gym Must-Haves
1. Weights
A set of dumbbells, adjustable dumbbells (as shown in the picture) or kettlebells are easy to use, relatively inexpensive, and extremely versatile. These offer a great way to add resistance to basic strength moves, and for masters and female athletes, this added resistance is key to maintaining bone density and muscle mass. 
---
2. Swiss/Stability Ball
Swiss or stability balls are an inexpensive option for home gym equipment, and you get a great bang for your buck when it comes to working stabilization and core, including hamstrings, glutes, lower back muscles, and abs. When purchasing a ball, be sure to select the size that will work best with your height.
---
3. Resistance Bands
Various resistance bands of different strengths and lengths are easy to store, inexpensive, easy to use, and portable. Bands help to build strength because of being able to manipulate tension easily.
These bands may include a loop band, open band, or a cord with handles. Given how relatively inexpensive and easy to store these bands are, set yourself up with all types.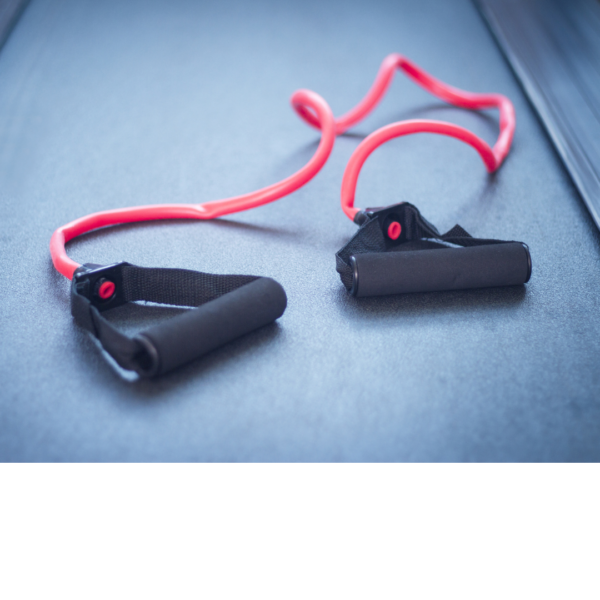 ---
4. Foam roller
A home gym needs recovery tools as well. I recommend getting a foam roller (and similar items) to use for self massage, core strengthening, and also as a yoga prop. 
If you are new to foam rolling and myofascial release, you can download some sequences by clicking here.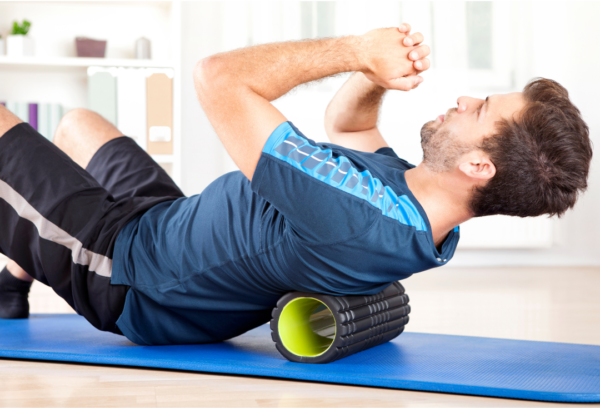 ---
5. Bike trainer
If you're a cyclist or triathlete, you will want to get a bike trainer. This is useful for days when the weather is prohibitive, as well as for time management. During the week, when time is low, it is quick and efficient to hop on the trainer and get your workout DONE.
You don't have to purchase a smart trainer – that's nice to have if your budget allows. There are options for "dumb" trainers that are less expensive, and still suit your need for at-home training.
---
Home Gym Nice-to-haves
If you have room left in your budget, and your house, consider some of these options for upgrades to your home gym equipment.
TRX or a similar suspension trainer is lightweight, portable, easy to store, and super versatile, and can provide a very challenging workout. It's great for beginners to advanced athletes because of the endless variety of movements and modifications. 
A bosu or balance disc allows you to work stability and balance, and to add difficulty to any movement. 
Mirrors can be a helpful tool for feedback on your form during exercise. 
A flat bench can be used for bench presses, split squats, bench dips, box jumps, step ups, etc. 
Medicine balls can be used for high-speed sets focused on power, speed, and endurance. 
If you're a triathlete or runner, a treadmill is nice to have! This one almost made my must have list for a lot of reasons – including time management. If you're a parent of small children, then I would add it to the "must haves". A treadmill is great for bad weather, getting in hill work, or even using for walks during phone calls.
Olympic barbell 
Squat rack with a pull up bar
Weight plates
Remember, you don't have to buy everything for your home gym all at once. You can start with a few key pieces and build up from there.
Do you have any pieces of equipment I missed that you love? Share it here!
If you need additional assistance with your strength training, we offer one-to-one personal strength sessions, delivered via Zoom. Our strength coaches will teach you how to make the most of your available time and equipment.
Or join our #NLECrew, and you can follow along with our weekly group strength workouts.
Contact us for more information!